The Middle East is certainly hot and spicy … and we don't just mean the people! Cuisine in the region bursts with flavor waiting to test your tastebuds. Can you stand the heat? Get in the kitchen and try out this quick and easy recipe for a delicious spicy sauce called 'Zhug' (סחוג) in Hebrew and known as 'Shatta' (شطة) in Palestinian Arabic. There are red and green versions of our team's favorite ethnic condiment, so we've provided you with both (even though we prefer the green version or "zhug yarok").
Green Zhug Recipe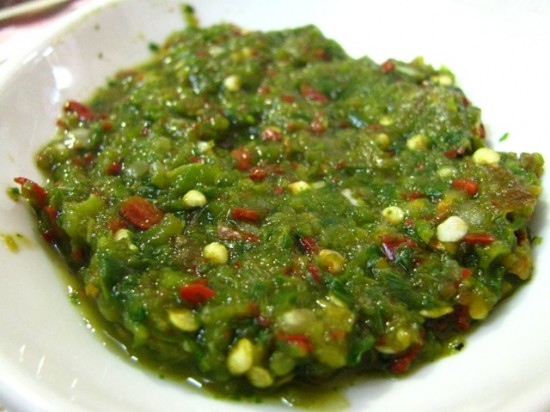 Spicy green Yemenite condiment known as sahaweq/zhug/shatta.
Ingredients:
1 cup of finely chopped fresh cilantro (coriander)
5 serrano peppers (serrano are skinny and slightly longer green peppers)
3 large garlic cloves
1/3 teaspoon cumin
1/3 teaspoon salt
1 teaspoon water
2 tablespoons of olive oil
Preparation:
Wash the serrano peppers. Seed them and remove the white pith. Chop coarsely and place in a food processor.
Wash the cilantro well and pat dry. Remove stems and chop the leaves. Add to the food processor.
Peel the garlic and add to the pepper and cilantro mixture. Add cumin and salt.
Blend. Add water and olive oil as needed. Blend until desired consistency is reached.
Red Zhug Recipe

Delicious red sahaweq/shatta, also known as harissa.
Ingredients:
5 oz of dried hot red peppers
2 tablespoons of cumin
a couple of pinches of black pepper
7 cardamom pods, ground
2 whole heads of garlic, peeled and chopped
pinch of salt
2 pieces of cilantro, washed, stemmed and chopped
Preparation:
Add all above ingredients to a stone or clay mortar.
Grind into a paste with the pestle.
Either of the above Middle Eastern spicy condiment recipes can be used for a variety of dishes. Marinate a protein (such as fish) in the sauce, douse over sides like rice or hummus, or take a piece of bread and spread it on in a thick layer for a great bite!
This spicy sauce condiment goes great with Palestinian food, too.