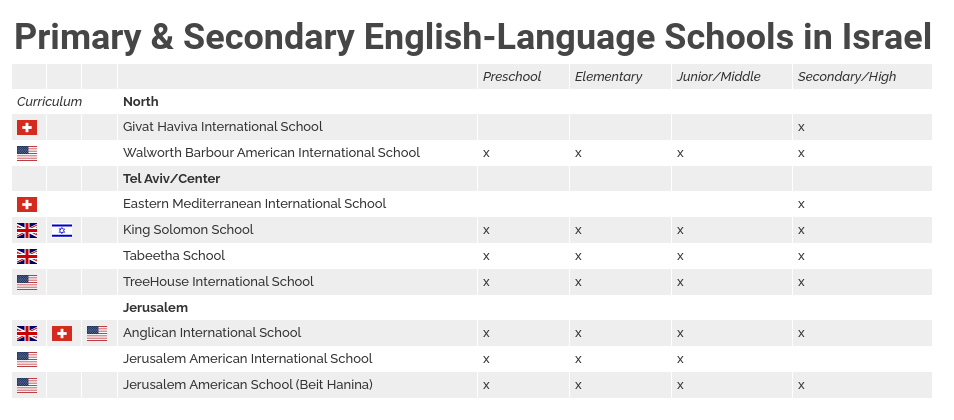 Finding the right school as an expat can genuinely make or break your child's academic experience. Most schools in Israel either teach in Hebrew or Arabic. However, there are a few schools throughout the country that do provide instruction in the English language. If you're looking for English schools in Israel – whether it's an elementary school, middle school or junior high, or high school experience, I've compiled a comprehensive list of those institutes. These are all full-time programs whose primary language of instruction is English, whether American or British. If I missed one, let me know in the comments section below!
English Schools in Israel
Location: Givat Haviva (East of Hadera)
Grades: 11-12
Curriculum: International Baccalaureate
Accreditation: International Baccalaureate Organization
Religious Affiliation: unaffiliated
Starting Tuition: $25,000 USD
Financial Aid: Available
Coed/Boys Only/Girls Only: Coed
On-Campus Boarding Availability: Yes
Google rating: 4 out of 5 stars
Is it possible to have a genuinely pluralistic and integrated school that addresses the local dynamic while providing quality education? Absolutely! Givat Haviva fosters a Shared Society environment, where the students are intentionally made up of equal parts Palestinian, Israel, and international backgrounds. One of the best things about this school is that they openly state that no qualified, admitted student will be turned away due to an inability to pay for tuition. They actively seek donations to cover the expenses of students from disadvantaged backgrounds.
Location: Even Yehuda (Adjacent to Netanya)
Grades: K-12
Curriculum: U.S. Standard
Accreditation: Middle States Association of Colleges and Schools
Religious Affiliation: unaffiliated
Starting Tuition: 61,400 NIS
Financial Aid: Available
Coed/Boys Only/Girls Only: Coed
On-Campus Boarding Availability: Yes
Google rating: 4.2 out of 5 stars
English Schools in the Tel Aviv Area
Location: Kfar Yarok (Tel Aviv adjacent)
Grades: 10-12
Curriculum: International Baccalaureate
Accreditation: International Baccalaureate Organisation
Religious Affiliation: unaffiliated
Starting Tuition: $32,000 USD
Financial Aid: Available
Coed/Boys Only/Girls Only: Coed
On-Campus Boarding Availability: Yes
Google rating: 4.1 out of 5 stars
Location: Kfar Yarok (Tel Aviv adjacent)
Grades: Preschool-12
Curriculum: U.K. Standard & Israeli Standard
Accreditation: Israeli Ministry of Education
Religious Affiliation: Jewish
Starting Tuition: 60,000 NIS
Financial Aid: Available
Coed/Boys Only/Girls Only: Coed
On-Campus Boarding Availability: No
Google rating: 3 out of 5 stars
Location: Jaffa
Grades: K-12
Curriculum: U.K. Standard
Religious Affiliation: Church of Scotland
Starting Tuition: 14,000 NIS
Financial Aid: Contact the school
Application Fee: Contact the school
Coed/Boys Only/Girls Only: Coed
On-Campus Boarding Availability: No
Google rating: 4 out of 5 stars
Employee rating (Glassdoor): 3 out of 5 stars
Location: Herzliya Pituach
Grades: Preschool-12
Curriculum: U.S. Standard
Accreditation: Western Association of Schools and Colleges
Religious Affiliation: unaffiliated
Starting Tuition: 82,000 NIS
Financial Aid: Contact the school
Coed/Boys Only/Girls Only: Coed
On-Campus Boarding Availability: No
Google rating: 3.5 out of 5 stars
Employee rating (Glassdoor): 2.2 out of 5 stars
English Schools in Jerusalem
Location: Jerusalem (Center)
Grades: K-12
Curriculum: UK Curriculum, International Primary Curriculum, International Baccalaureate
Accreditation: Middle States Association, International Baccalaureate Program, and Council of British International Schools
Religious Affiliation: Anglican Church
Starting Tuition: 62,600 NIS
Financial Aid: Contact the school
Coed/Boys Only/Girls Only: Coed
On-Campus Boarding Availability: No
Google rating: 3.4 out of 5 stars
Location: Jerusalem (South)
Grades: Preschool-9
Curriculum: U.S. Standard
Accreditation: Middle States Association of Colleges and Schools
Religious Affiliation: unaffiliated
Starting Tuition: 46,350 NIS
Financial Aid: Available
Coed/Boys Only/Girls Only: Coed
On-Campus Boarding Availability: Yes
Google rating: 4.2 out of 5 stars
Location: Jerusalem (North, Beit Hanina)
Grades: Preschool-12
Curriculum: U.S. Standard
Accreditation: Southern Association of Colleges and Schools, Construction Education and Training Authority (CETA)
Religious Affiliation: unaffiliated
Starting Tuition: Contact the school
Financial Aid: Contact the school
Coed/Boys Only/Girls Only: Coed
On-Campus Boarding Availability: No
Google rating: 3.4 out of 5 stars