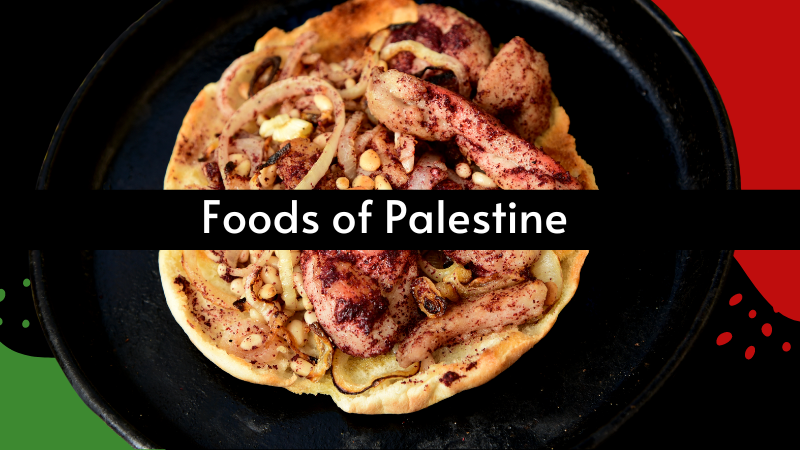 Palestinians have a rich and varied cuisine that has been shaped by the region's history, climate, and geography. From hearty stews to light salads, there is something for everyone to enjoy. In this article, we'll introduce you to some of the most iconic Palestinian food that you'll absolutely love!
Savory Palestinian Food
Falafel
If you're looking for delicious and iconic Palestinian food, look no further than falafel! These deep-fried balls of chickpeas or fava beans are usually served in pita bread with salad and tahini sauce, making for a hearty and satisfying meal. Falafel is a popular street food in Palestine, so you can find it just about anywhere you go. Whether you're enjoying it as part of a meal or snacking on it on the go, falafel is definitely a must-try when you're in Palestine!
Hummus
Hummus is a delicious, healthy food that is an integral part of Palestinian culture. This creamy dish is made from chickpeas, tahini, olive oil, lemon juice, and garlic, and is often served with pita bread or vegetables. Hummus is a great option for vegetarians and vegans, as well as those who are looking for a hearty, yet healthy meal.
Musakhan
Musakhan is a Palestinian dish that is typically made with chicken, onions, and sumac. It is often served as a main course, but can also be served as a side dish. Musakhan is a popular dish among Palestinians, and is often served at special occasions such as weddings and holidays.
Maqluba
Maqluba is absolutely the national dish of Palestine! This traditional rice and meat casserole is bursting with flavor, and is sure to leave you feeling satisfied. Maqluba can be made with chicken, lamb, or beef, and is typically served with a side of yogurt or salad. However, my preferred combination is chicken with potato and cauliflower – just like my mother-in-law makes.
Mansaf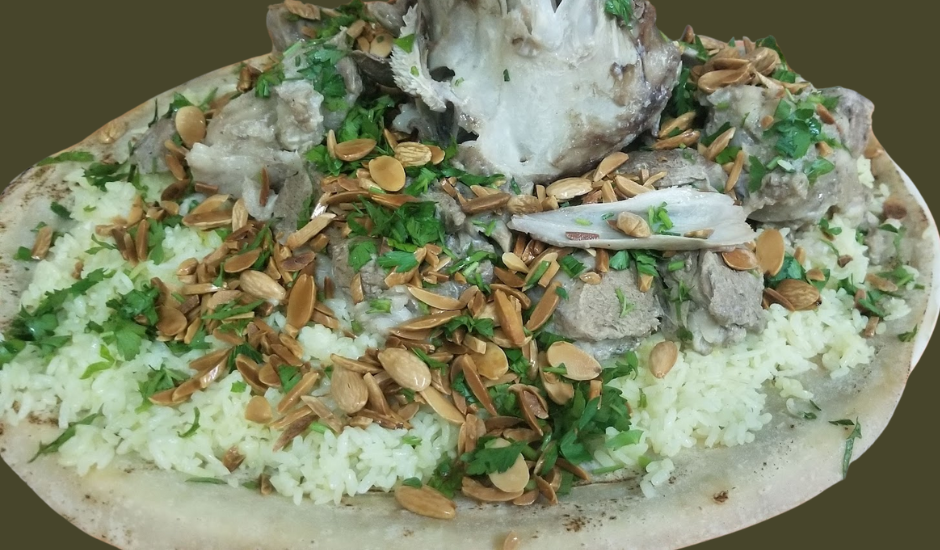 Mansaf is a dish of rice and lamb cooked in a special yogurt sauce (jameed). Mansaf is traditionally served on a large platter and shared by everyone at the table. This dish is often reserved for special occasions, such as weddings and holidays.
Ouzi
This flavorful and filling dish is typically made with chicken or lamb, rice, and a variety of vegetables, all of which are cooked together in one pot. Ouzi rice is often served on special occasions and holidays, but it can also be enjoyed as a simple weeknight meal. If you're looking to try your hand at making this popular dish, check out this recipe.
Kusa Mahshi (Stuffed Squash)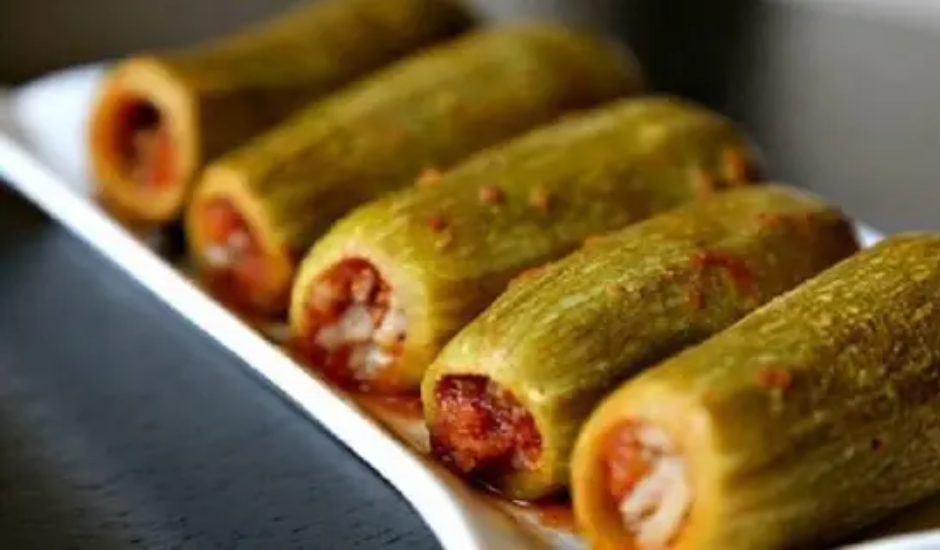 There's something special about stuffed squash. Perhaps it's the fact that they're one of those rare vegetables that can be both savory and sweet. Or maybe it's the beautiful presentation when they're sliced open, revealing their colorful filling.  Kusa mahshi is made by stuffing squash with rice, ground meat, onions, and spices. The stuffing is usually quite simple, but it can be jazzed up with raisins, pine nuts, or other extras. Once the squash is stuffed, they're cooked until tender and served hot.
Waraq Dawali (Stuffed Grape Leaves)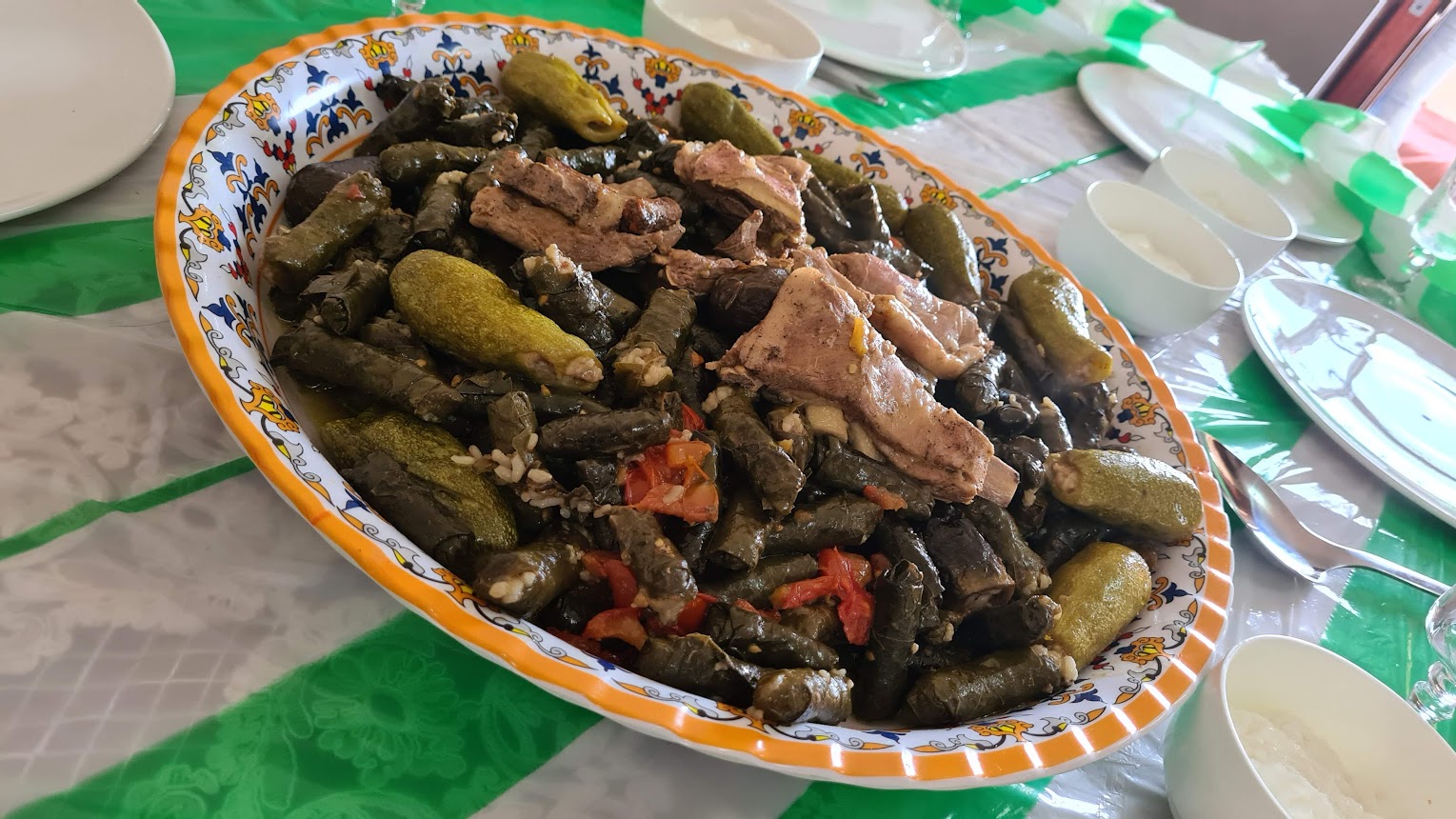 Waraq dawali is a traditional Palestinian dish made of grape leaves stuffed with rice, meat, and spices. The dish is often served as a main course or as an appetizer. It is a popular dish during the Muslim holy month of Ramadan.
Waraq dawali is a delicious and healthy dish that is perfect for any occasion. The grape leaves are stuffed with a flavorful mixture of rice, meat, and spices. The dish is then cooked until the grape leaves are tender and the filling is cooked through.
This dish is sure to please everyone at your next meal!
Molokhia
Molokhia is a traditional Palestinian soup that is usually made with chicken or beef broth, and is often served with rice. The soup gets its name from the molokhia plant, which is also known as Corchorus olitorius or Jew's mallow.
The molokhia plant is native to Africa and has been used in traditional African cuisine for centuries. Molokhia is a leafy green vegetable that has a mucilaginous texture and is often used as a thickening agent in soups and stews.
The molokhia plant is believed to have numerous health benefits, including being a good source of vitamins A and C, as well as iron and calcium. Molokhia soup is traditionally made by simmering the leaves of the molokhia plant in chicken or beef broth until they are tender. Once the leaves are cooked, they are then pureed into a smooth soup.
Molokhia soup can be served either hot or cold and is often garnished with lemon juice, chopped parsley, and garlic.
Mana'eesh with Za'atar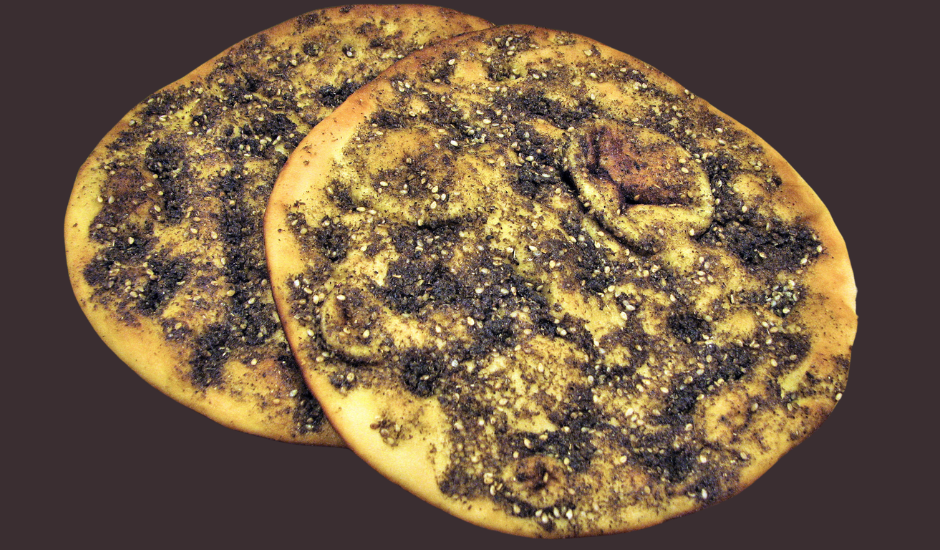 When it comes to Palestinian cuisine, one of the most beloved foods is mana'eesh (manakeesh outside of Jerusalem). This flatbread is typically topped with za'atar, a spice blend made with thyme, sumac, and sesame seeds. Mana'eesh is usually served for breakfast or as a snack, and it's a staple of Palestinian cuisine.
If you're looking to try mana'eesh for yourself, you can find it at many Middle Eastern restaurants or bakeries. Or, if you're feeling ambitious, you can even make it at home! Just follow this recipe and you'll be enjoying delicious mana'eesh in no time.
Ka'ak
Also known as a Jerusalem bagel, ka'ak is a staple of the Jerusalemite diet, but can be found in nearly every bakery in the country. Ka'ak is made from an unleavened dough that is formed into a flatbread and then baked in a hot oven. The result is a crispy, chewy bread that is perfect for dipping in olive oil or enjoying with a cup of tea.
While ka'ak may be simple in appearance, it is rich in history. This bread dates back to ancient times, and was even mentioned in the Bible. Today, it remains an important part of Palestinian culture, and is enjoyed by people of all ages. Whether you're snacking on ka'ak at a street market or sharing a meal with friends, this bread is sure to bring a taste of Palestine to your table.
Fasoulya Khadra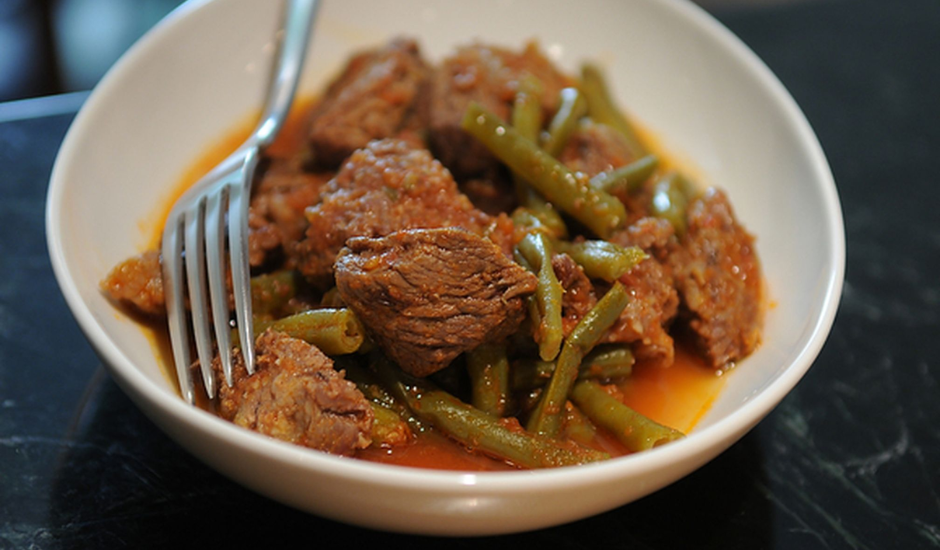 This dish is made with green beans, tomatoes, and onions, and is typically served with rice or pita bread. Fasoulya khadra is the perfect meal for a cold winter day, or any day when you're looking for a comforting and filling meal.
Fasoulya Bayda

This traditional stew is made with white beans, tomatoes, and plenty of garlic and herbs. It's typically served with rice or bread, making it a perfect meal for any time of day.
Sfiha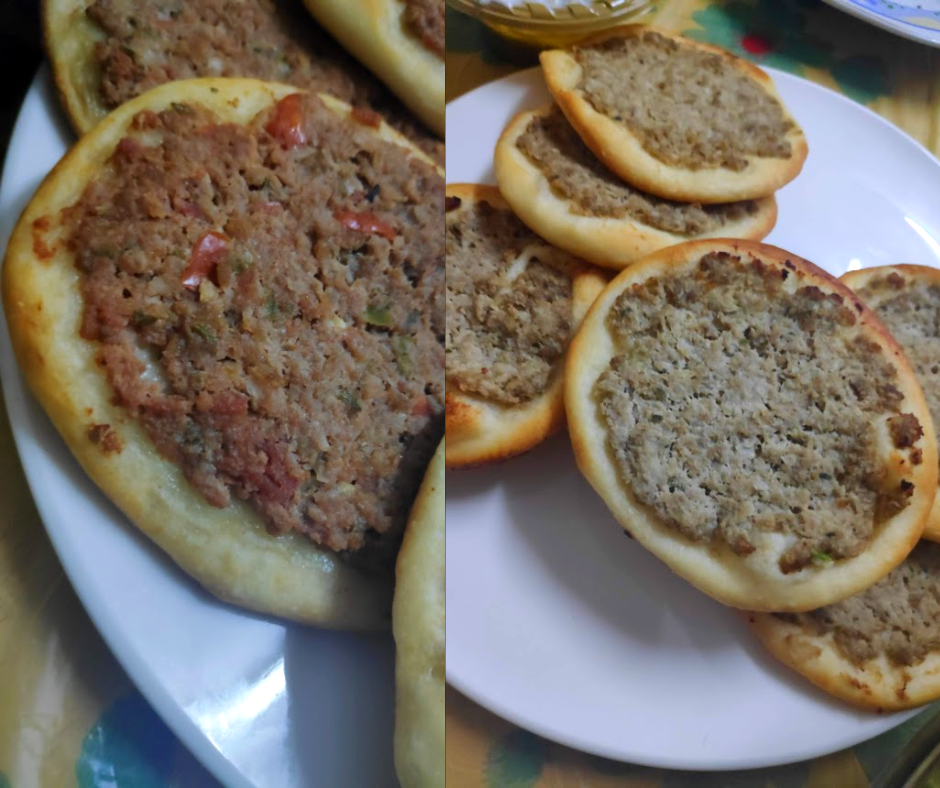 This dish is traditionally made with ground lamb, onions, and spices and is usually served as an appetizer or main course. There are many variations of sfiha, but pictured above are two popular versions of Palestinian sfiha – one made with a tomato-based sauce and the other a tahini-based sauce.
Fatayer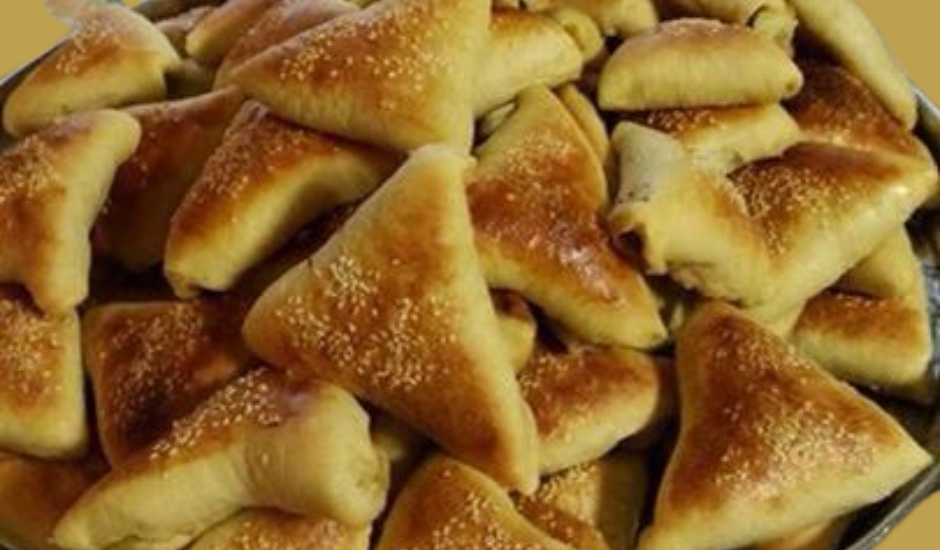 This scrumptious triangle is stuffed with spinach and therefore often known by the name 'sabanach' (literally: 'spinach' in Palestinian Arabic). This comes warm out of the oven and rarely lasts for more than a few moments on a platter.
Fattoush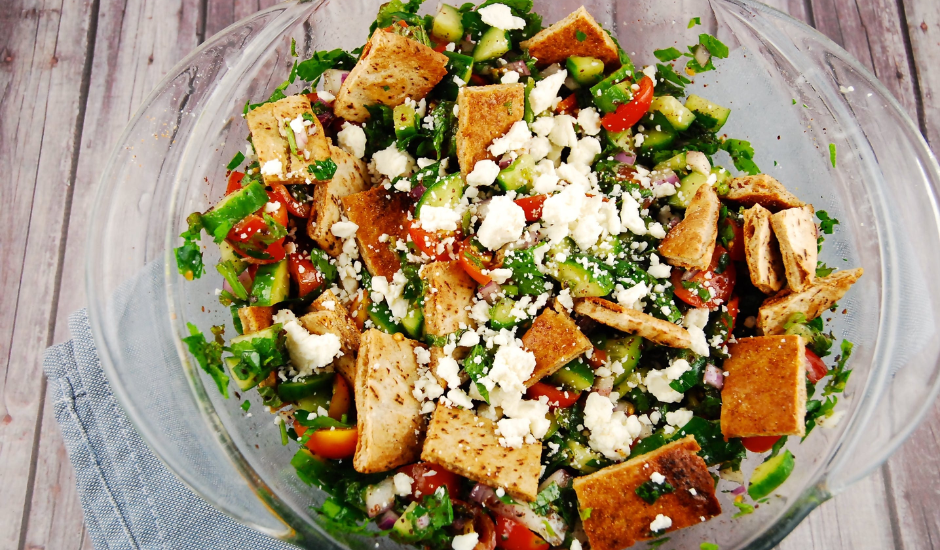 When thinking of Palestinian cuisine, many people immediately think of fattoush. This dish is a salad made with fresh vegetables, herbs, and fried pita bread. It is a staple of Palestinian cooking and is often served as a starter or side dish. Fattoush is a simple yet flavorful dish that is sure to please everyone at the table.
Shorbat Freekeh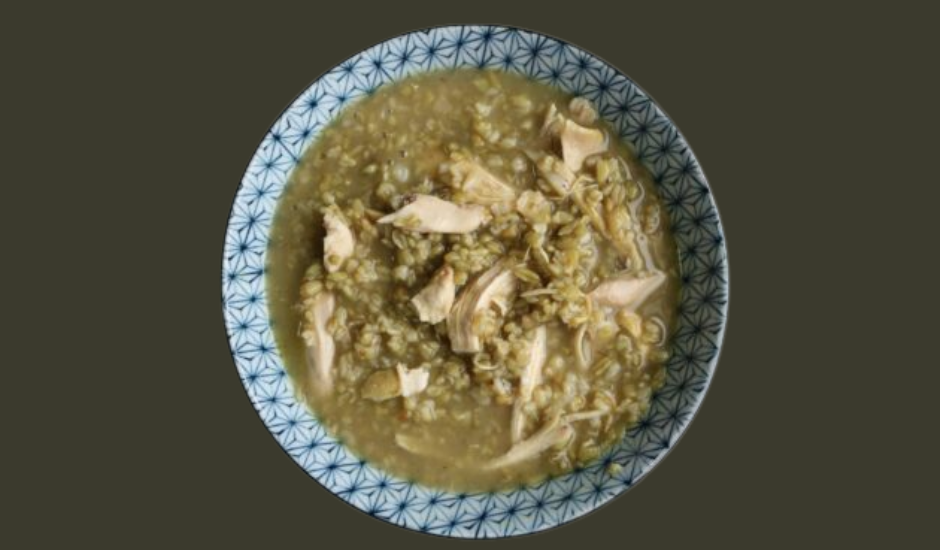 This dish is traditionally made with smoked chicken or lamb, and is simmered in a broth with freekeh – roasted green wheat. Shorbat freekeh is not only delicious but also packed with nutrients and antioxidants. Freekeh is a great source of fiber, protein and vitamins, making it a healthy and filling meal. This dish is often enjoyed during special occasions and holidays but can be enjoyed any time of year.
Mujadara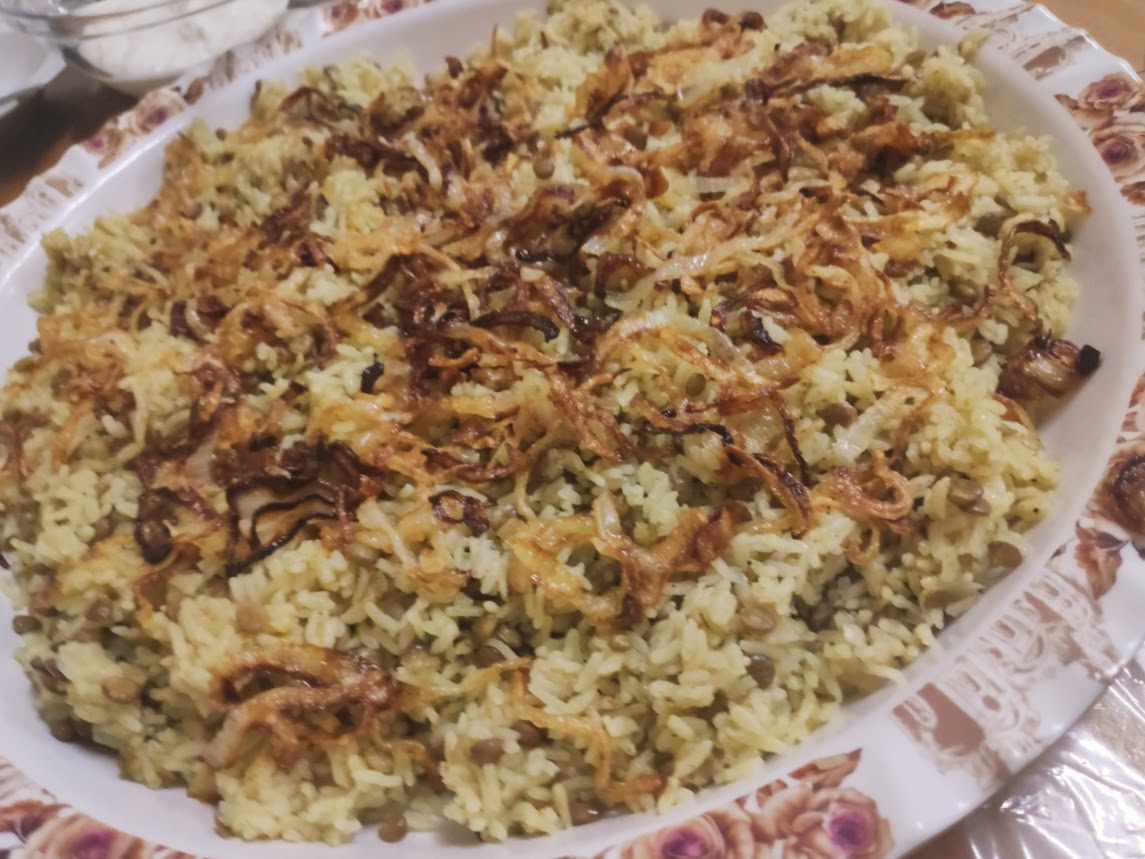 Mujadara is a dish made of rice and lentils, and it is an iconic Palestinian food. This dish is usually served with a side of yogurt or salad, and it is a very popular meal among Palestinians.
Malfoof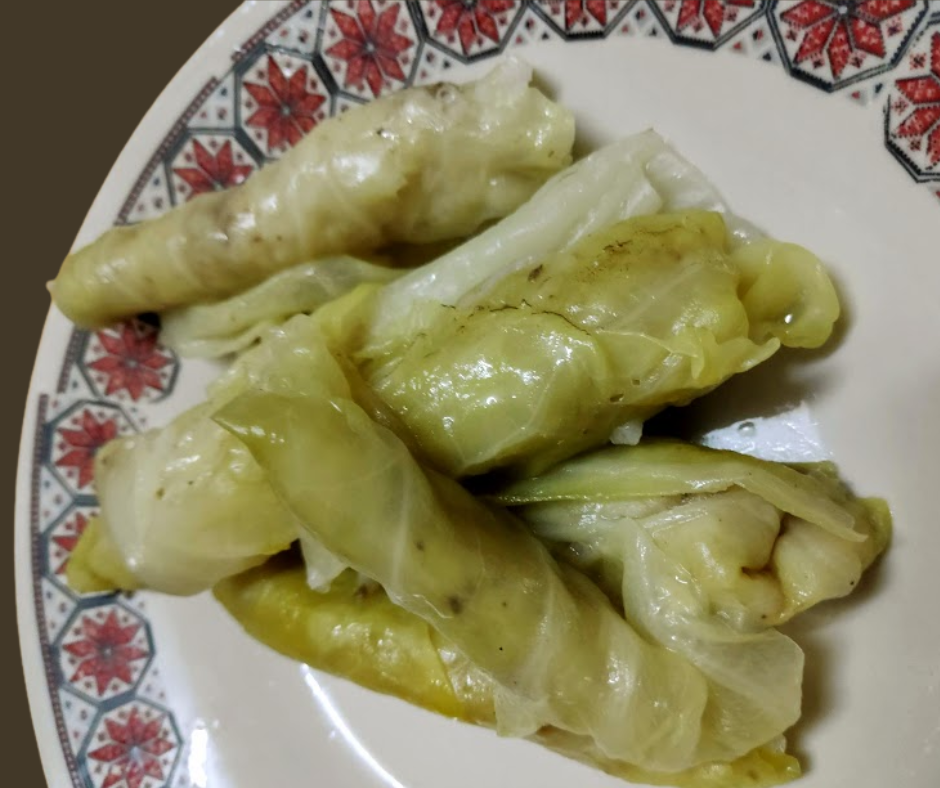 Malfoof is Palestine's answer to stuffed cabbage. It is typically filled with rice and minced meat and cooked in yogurt or a tomato-based sauce.
Kafta b'siniyeh
Kafta (also kofta or kofte) are essentially kabobs in the shape of balls or torpedoes, made with ground lamb, onions, and spices, and is cooked in either a tomato or tahini sauce. Most families also add sliced potatoes and tomatoes atop the meat.
Sweet Palestinian Food
Ma'amoul
These little shortbread cookies are traditionally filled with either dates, nuts, or a combination of both, and they are absolutely delicious. Ma'amoul is often served during special occasions like weddings and holidays, but they are also the perfect treat to enjoy any time you want something sweet. If you haven't tried ma'amoul before, you definitely need to give them a try – you'll be hooked after just one bite!
Knafeh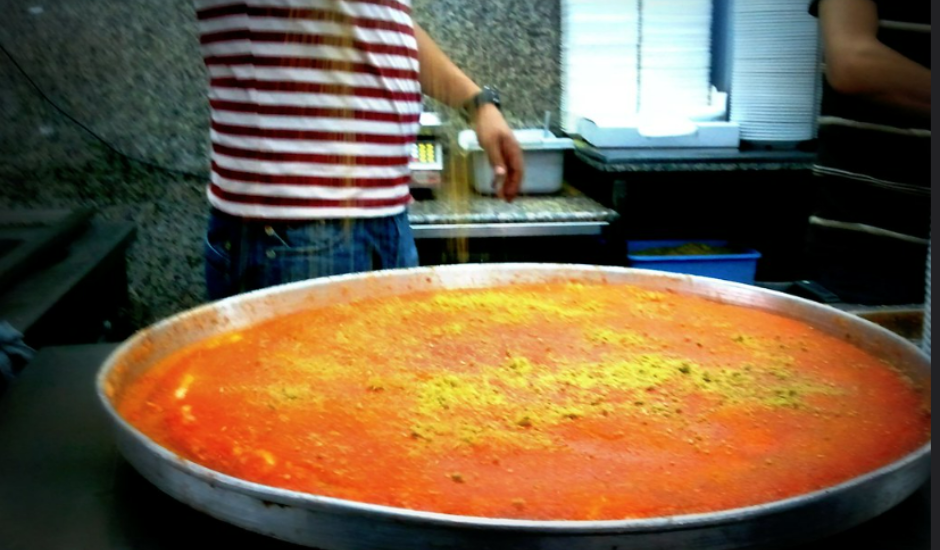 Knafeh is a delicious Palestinian dessert made with shredded phyllo dough, sweet cheese, and syrup. It's often served at weddings and other special occasions. The most popular version is called Nabulsi, but you can also find amazing knafeh at special cafes in Nazareth and Jerusalem.
Qatayef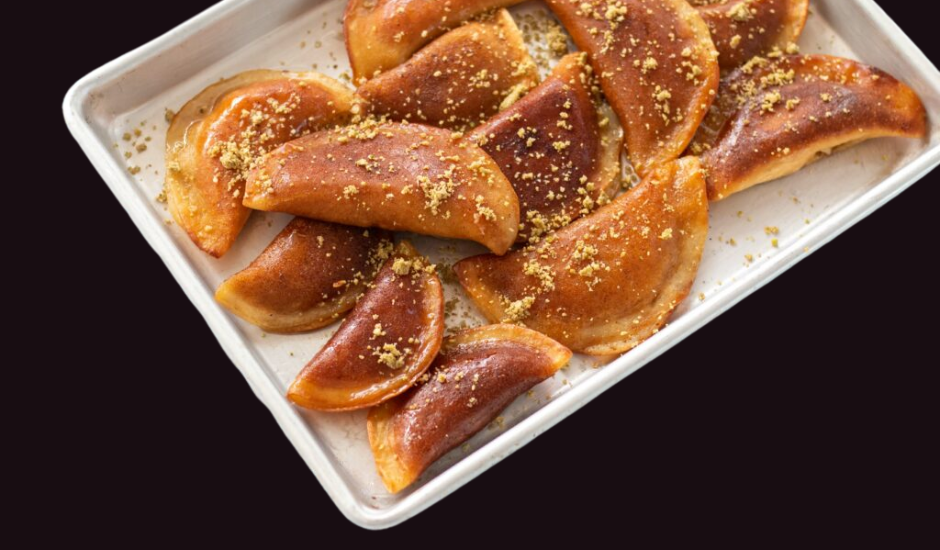 Qatayef is a traditional Palestinian dessert that is made during the month of Ramadan. It is a type of pancake that is filled with either sweet or savory fillings and then fried. Qatayef can be served as a dessert or a main dish, and it is often accompanied by Arabic coffee.
Halawa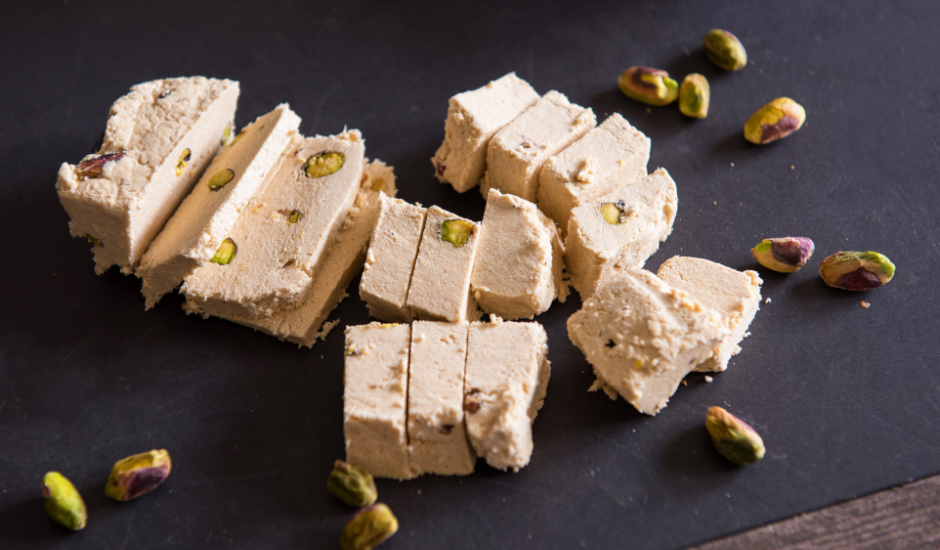 This delicious sweet is made from ground sesame seeds, sugar, and spices, and is often eaten as a snack or dessert. Halawa is also a popular ingredient in many Middle Eastern desserts, such as Baklava and Kanafeh. If you're ever in Palestine, be sure to try some of this delicious treat!
Sahlab
Sahlab is part drink part pudding that is made with milk, rice flour, and sugar – and, traditionally, orchid (hence the name). It is mot popular during the winter in Palestine and is often served with shredded coconut and chopped pistachios.
Palestinian recipes are rich and varied, with something to offer everyone. Whether you're looking for a hearty meal to warm you up on a cold day or a light and refreshing dish to enjoy in the summer heat, tasty food from Palestine has got you covered. So next time you're in the mood for something new, be sure to give Palestinian cuisine a try – your taste buds will thank you!
Want something spicy? Check out our zhug/shatta spicy green condiment recipe.