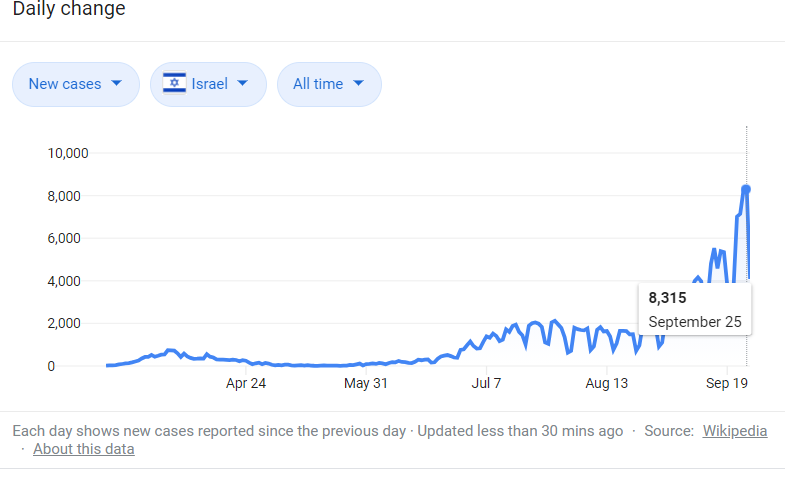 Nearly one million people have died around the world from Covid-19, and Israel's death count is quickly closing in on 1,500 grandparents, parents, and children who have passed away due to complications stemming from the coronavirus.
When the pandemic showed itself to be a globetrotter, Israel was one of the first countries outside of China to clamp down on its residents, in efforts to stop the virus in its tracks. It began as a beacon of light and an example unto the nations on the effectiveness of lockdown and strict measures could be the best way to keep citizens safe. However, that glow of success quickly faded away from a bright, guiding light and turned red.
Enough people thought that because the country reopened following the first lockdown that the risk of the virus was over or not as serious as initially thought. Well, that mindset is what has led us into a second lockdown.
The demonstrable science is simple: wear a mask, wash your hands, socially distance, and we'll be good in a shorter amount of time than without those measures. If only we actually knew what life would be like if people lived by science.
Here are the lockdown rules this time around (from the Ministry of Health guidelines):
Regulations for the Holiday Closure
Restrictions on Commercial, Recreation, and Leisure Activities
Business Closed to the Public:
Retail, except essential stores (see below)
Pools
Gyms
Salons, barbershops, beauty parlors
Farmers Markets (Shuk)
Fairs
Hotels and guesthouses (including AirBnB) are closed to vacationers
Other places of recreational and leisure activities
Businesses who are typically open to receiving the general public
Lockdown Exceptions (Businesses Allowed to Stay Open):
Essential stores (grocery, optical, pharmacies, household maintenance, electrical appliances, laundromats, communications, and device repair services)
Places used only for practice by professional athletes
Businesses that sell religious supplies for the Sukkot (Feast of the Tabernacles) holiday
Limitations on Visits
It is forbidden to visit the residence of others (except in the permitted cases, such as fixing an urgent issue or helping someone in need)
It is forbidden to go to the beach, except for the purpose of permitted sport activities (including one person or persons living together swimming, and those who can reach the beach without using a car)
Rules of Conduct in Public Spaces
Gatherings of up to 20 people outdoors or 10 people indoors, in the case of immediate family only
Prayer – in accordance with the 1000 meter distance limitation. It is not permitted to pray with another person (whom you do not live with) indoors.
Prayer services may only be held outdoors, with up to 20 total participants.
Maintain a distance of 2 meters between people.
In vehicles, up to 3 people may travel together (unless they all live together, in which case it can be more). One additional passenger is allowed per each additional rear row of seats.
What is allowed beyond 1 kilometer from your residence?
Travel to work for essential workers and soldiers.
Procurement of medicines, food, and essential products or services.
Provision of aid of a person in need
Reception of medical, psychological, alternative medicine, social, and welfare treatments (1 patient at a time).
Travel to the Knesset (parliament), judicial proceedings, and blood donations
Exercise (alone or those who live together) that doesn't require travel in a car
Participation in a funeral or circumcision
Arrival of a woman at a religious ritual bath (mikvah)
Critical treatment for animals
Transfer of a minor between parents who do not live together
Transfer of a minor to a guardian/caregiver when a single parent leaves for an essential purpose
Travel to permitted educational activities (special education, children of essential workers)
Travel of residents of welfare facilities or people with disabilities to visit immediate family, or for immediate family to visit them
Moving residence
Flights/public transit in accordance with published regulations
What's the Status of Covid-19 in Israel?
According to statistics presented on data.gov.il, 10.4% of all SARS-CoV-19 tests conducted between August 15th and September 24th, 2020, were positive for the virus.
Of those tested, 88% of results confirming coronavirus infection were in people under the age of 60 years old.
Among males and females who tested positively, the divide was nearly equally, with men accounting for 50.5% of positive tests, compared to women accounting for 49.2%, while 0.3% of positive tests indicated 'null' for gender.
35.8% contracted the virus from a known infected carrier, while a mere 0.4% contracted the virus after returning from abroad.
Symptoms included in the dataset were:
Cough 15.1%
Fever 19.2%
Shortness of Breath 2.5%
Sore Throat 8%
Headache 16.2%
None of the Above Symptoms 63.8%
All of the Above Symptoms 0.2%
According to a Haaretz report published on July 13, 2020, Dr. Amir Onn, the pulmonology oncology chief at Sheba Medical Center, "said that with most infectious diseases, recovered patients can soon resume a normal life, but with COVID-19, the lingering symptoms tend to be more significant." Just because you made it through, it doesn't mean it's over. In the same report, they spoke with 'recovered' patients of Coronavirus, including:
Niv Dashat of Tel Aviv, 27, also lists a host of symptoms she still experiences since officially recovering in April. "I still get a rapid pulse," she says. "My sense of smell isn't back to normal, and sometimes I feel dizziness even when I'm resting, along with unexplained fatigue." Dashat, who is training to become a Pilates instructor, says she was in excellent physical condition before she became ill. "Today when I run it's very hard for me to breathe," she says. "I've also experienced drops in blood pressure. I absolutely don't feel the same as I was before."
Sidebar Some food for thought: The World's poorest-performing countries when it comes to the Pandemic are led by right-wing populists and "self-centered authoritarians." (Haaretz)
What's the Status of Covid-19 in Palestine?
The Palestinian Authority governing body was quick to shut down schools and parks at the beginning of the pandemic. They had a number of cases in Bethlehem initially, and were swift in putting the towns with a cluster of cases under lockdown. Nonetheless, Palestine has seen a growth in cases over the latter half of the summer season, just like Israel.
Based upon reported infections and currently available data, Palestine currently has an approximate Coronavirus infection rate of 0.95%, while Israel currently has an approximate Coronavirus infection rate of 2.6% of the overall population.
The deaths per cases rate for Palestine, according to the latest available data, currently stands at 0.67%, with the current death count at 322. This is compared to Israel's 1,466 deaths, but very similar 0.64% morbidity.
The United Nations published the following infographic on September 3rd, 2020:
The vast majority of Coronavirus cases in Palestine are located in the Hebron area, according the the Palestinian Authority Ministry of Health. People under the age of 30 account for 45.9% of Covid-19 positive test results in territory under Palestinian control.
Have a happy harvest festival season and healthy, safe lockdown. Don't forget to wear your masks and socially distance!