Hands down, no other place compares to the Palestinian falafel found in the markets and street vendors of East Jerusalem.
The key to the unique flavor of Jerusalem Palestinian falafel is the addition of spices like cumin and sumac, as well as the use of chickpeas instead of fava beans, like they use elsewhere in the Middle East. The mixture is then formed into small balls and deep-fried to perfection.
One of my favorite spots to grab authentic Palestinian falafel is at the bottom of the stairs when coming into Damascus Gate in the Muslim Quarter of the Old City. The vendor has been there for decades and greets every customer like an old friend. Of course, they use a special technique of frying the falafel by using a dome-shaped scoop, which allows for even cooking and a crispy exterior. Not to mention, it's made fresh each time!
If you're unable to make it to Jerusalem, I've included a recipe below for you to make your own Jerusalem Palestinian falafel at home.
Jerusalem Palestinian Falafel Recipe: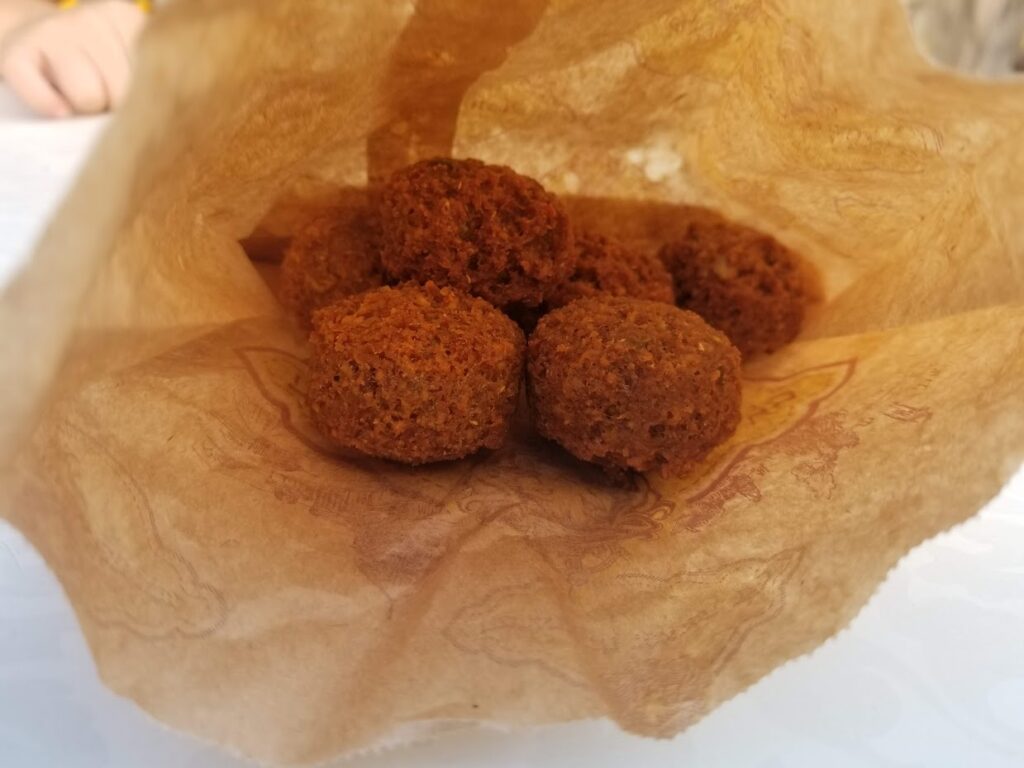 Ingredients:
1 cup dried chickpeas
1/4 cup chopped parsley
1/4 cup chopped cilantro
1 small onion, chopped
3 cloves garlic, minced
2 tsp ground cumin
1 tsp ground coriander
1 tsp ground sumac
1 tsp salt
1/4 tsp black pepper
Oil for frying
Instructions:
Soak the chickpeas in water overnight.
Drain and rinse the chickpeas, then add them to a food processor with the parsley, cilantro, onion, garlic, cumin, coriander, sumac, salt, and pepper. Pulse until the mixture is well combined but still slightly chunky.
Form the mixture into small balls or patties.
Heat oil in a deep fryer or large pot to 350°F.
Carefully add the falafel to the hot oil and fry for 3-5 minutes, or until golden brown.
Drain on a paper towel-lined plate.
Serve the falafel in pita bread with tahini, tomatoes, and cucumber.
Enjoy these falafel balls with hummus and tahini, and don't forget to sprinkle some sumac on top for that authentic Jerusalem flavor.