Getting to and from the Ben Gurion Airport (TLV) can sometimes seem like a daunting or expensive task, but it really doesn't have to be. There are many options, including some very economical ones. Whether you need to get from TLV to Tel Aviv the city, from the Tel Aviv airport to Jerusalem, or are heading from Ben Gurion to Haifa or to Beer Sheva or anywhere else, let's take a look at the Ben Gurion Airport transportation options for travelers.
Primary Transportation to/from the Tel Aviv Airport
Taxi
Where can you go?: Anywhere in Israel and the West Bank, depending on the driver.
Average Cost: To Tel Aviv – ~200 shekels, To Jerusalem – ~400 shekels
How can you order a taxi?: Curbside, Mobile App, Taxi Company
If you're looking for a taxi from the airport, one of the easiest things anyone can do is to simply walk outside and catch one of the many taxis typically lined up outside the arrival hall. There are two methods of fare calculation: either you can negotiate a flat rate or you can ask them to put on the meter. The meter is often, but not always, cheaper, but beware of the couple of 'bad apple' taxi drivers that will try to take you for a 'scenic route' – use an app like Waze and demand that they follow the route as you dictate.
Things to know: In each registered taxi, there should be two small plaques that rest between the front and back seats on the interior frame of the car. One has the name and ID number of the vehicle's owner, and the other is that of the driver. Take down these numbers for your record, regardless of whether or not the driver is friendly and professional. Also, don't forget to take the receipt at the end.
Do you tip taxi drivers in Israel? The answer is no. Don't feel obligated whatsoever to provide a tip at all. If you still want to, no more than 10% is more than enough.
Taxi apps in Israel: There are three main taxi-ordering mobile apps in Israel, Gett (formerly Get Taxi), Yango, and Raxi. Gett is the predominant taxi app in the country, as it has the most drivers and users. You can use cash or a stored credit card to pay for rides on any of the apps. Yango is the only one that offers you a fixed-rate before you even order the taxi, regardless of where you want to go. For Yango and Raxi, the quality of cars and drivers are less-than-stellar a higher percentage of the time when compared to Gett. Regardless, having an app allows you a bit of piece of mind by knowing who your driver is and a record of the ride.
Are there ride-sharing apps? While Uber does technically exist in Israel, it is only used by registered taxi drivers. Lyft and other ride-sharing apps do not exist here.
Train
Where can you go?: The Israel Rail system goes as far north as Nahariya, south to Ashkelon and Dimona, out to Jerusalem, Beit Shean, and all along the coast through Netanya and Tel Aviv, including the airport.
Average Cost: To Tel Aviv – 9 shekels, To Jerusalem – 18 shekels, To Haifa – 27 shekels, To Ashkelon – 24 shekels
How can you buy a train ticket?: At the train station's service counter, ticket-vending machine at the station, mobile app (ie Moovit), or with a rechargeable transit pass ("Rav Kav")
The train is a rather comfortable way to travel if you're not carrying a significant amount of luggage. Take into consideration that commute hours (7:00-9:00 and 16:00-18:00) and the train can get extremely crowded.
Israel Rail Map: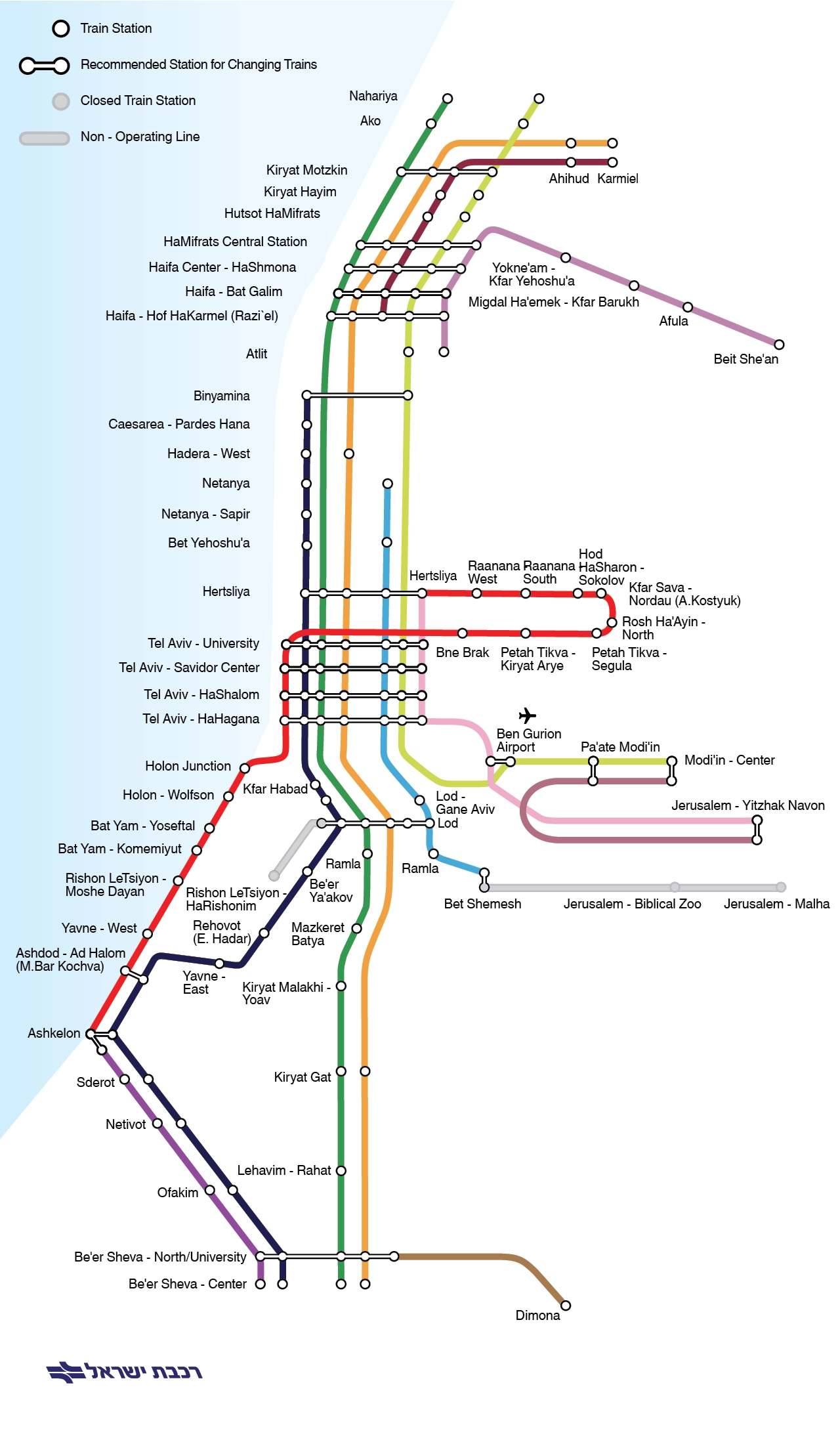 Shared Taxi Van (Minibus)
Where can you go?: Jerusalem or Haifa, and many towns on the way or in the surrounding areas
Average Cost: To Haifa – ~100 shekels, To Jerusalem – ~70 shekels
How do you take a shared taxi?: Curbside, in advance directly through the company
If you're travelling with the maximum pieces of luggage allotted but are on a budget, a shared taxi/minibus (known as a 'sherut' – pronounced 'shay-root') could be the better option for you. The downfalls are that you're often stuffed in a van with people you don't know and may be subject to a longer ride if their stop(s) is/are before yours.
The sherut companies from the airport are Nesher for Jerusalem and Amal for Haifa. Frequent travelers will often tell tales of terrible customer service, but it's a hit or miss.
Should you tip the sherut driver? Sure, you can, but it's not customary.
Public Bus
Where can you go?: Tel Aviv, Haifa, Beer Sheva, Ashdod, Jerusalem, Ra'anana, Shoham,
Average Cost: ~10-30 shekels, depending on the destination
How do you know when there's a bus?: Moovit
This is the ultimate budget-friendly method of travelling to and from Ben Gurion airport. Use the Moovit app or even Google Maps to double-check the times, but – in theory – there should be buses running day and night. To Jerusalem, you'd take bus #485, Haifa #905, Beer Sheva #469, Ashdod #330, Tel Aviv #445, Shoham #13, Ra'anana #444. The bus stops for each are outside the arrival hall.
Private Car Service
Where can you go?: Anywhere, depending on your driver.
Average Cost: To Tel Aviv – ~200 shekels, to Jerusalem – ~400 shekels
Where can you find a private car service?: Recommendations, Google Search
A private car service may be slightly more costly than a private taxi, but you will typically receive a VIP treatment. The price should absolutely be arranged in advance, and it's typically best to find the service through recommendations (friends, coworkers, or even a Facebook group). Why's it worth it? There's always plenty of room for your luggage, you get great customer service, a smooth ride, and don't have to share with anyone.
Private Car
Where can you go?: Wherever you'd like
Average Cost: Cost of gas and/or the cost of a rental vehicle
Well, this is up to you and your ride. Will you ask a family member, friend, or coworker? Are you renting a car through Sixt, Eldan, Avis, or someone else? A private car is very convenient, but can be rather expensive if you're renting on a daily basis.